Documentation: Gameplay
Playing synergy
It's now very easy to start a local game in Synergy, compared to previous versions.
All you need to do is use the new Create Server option from the main menu, set your network and game settings and you're all set.
Or if you prefer, you can connect to someone else's game server using the Find Server option from the main menu.
Ground Rules
Before you start playing Synergy, there are some ground rules you should learn first
You have team spawn tokens, which keep your respawn time low as long as you keep as many as you can.
Dying will remove a team spawn token and respawn time will increase.
Play with smaller numbers of players; more players means longer respawn times.
You fail if everyone dies - do not let your teammates die!
The number of times you can respawn is not limited, however dying puts your team at risk:

already dead players will have to wait longer to respawn
one less player for the others to spawn near
you lose a team spawn token, which increases the base respawn time (which never decreases)

You always spawn near a teammate when he/she isn't in combat. If the game cannot find a safe place for you to spawn, it will continue searching until you are spawned.
Be sure to share weapons and ammo with your teammates. No sense letting them sit back while you do all the work!
You can give ammo to a teammate just by walking up to him/her and pressing your "Drop Ammo" key. You will dispense ammo for the weapon they are currently holding.
Giving the players, as a team, a set number of spawn tokens - instead of having the players have their own lives - lets players who are new to the game, get used to it gradually, instead of sitting out all the time. We don't get "dead players" either - you can always respawn as long as there is a teammate alive.
Hud Changes
Several new HUD elements have been added to the screen to inform you of new events: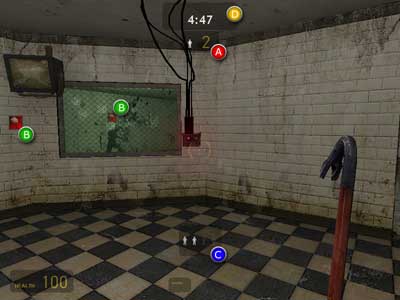 (A) Team Info Display

Displays how many team spawn tokens your team has and how many living players there are

(B) Player Locator

Shows the position of your teammates as their avatar floating above their head

(C) Teamwork Display

This element appears when you require several players to complete a task

(D) Timer Display

Shows your respawn timer, transition timer and level timers